Island and Regional Maps

Rich in diversity, Oahu is made up of two large mountain ranges, the Koolau Range on the lush windward side and the Waianae Range on the dry Leeward side. Between them lies the fertile lands of the central plateau. White sandy beaches surround the entire island with world famous surfing beaches to the North. And to the South -- the picture perfect resort area of Waikiki and the capitol city of Hawaii, Honolulu.

Unique among the Hawaiian Islands, Oahu has the best of both worlds with the convenience of a clean modern cosmopolitan city and the stunning mountains, valleys, rivers, beaches and waterfalls Hawaii is famous for.

Click on the map names below for detailed views of each area..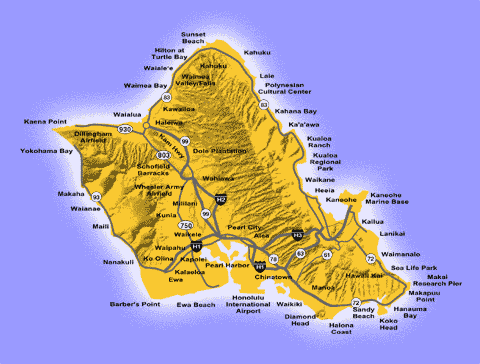 Honolulu/Waikiki
Central Oahu
East Honolulu
Leeward Oahu
North Shore of Oahu
Windward Oahu